BY LESA.LORUSSO ON JUNE 7, 2012 IN FLORIDA HISTORICAL SOCIETY
Images by Lesa Lorusso
A scenic trip down the winding road known as Rockledge Drive in Rockledge, Florida provides architecture fans a beautiful visual array of historical styles. This residential road overlooks the Indian River in Brevard County and is lined with sprawling oaks draped in Spanish moss and swaying palm trees. Rockledge Drive has long been a desired residential location with its plentiful shade and views of the beautiful Indian River, and is home to an architectural assortment of historical and modern styles making it a favorite for tourists and architectural enthusiasts. Akin to bird watching aficionados, the historic architectural enthusiast can be easily identified in historical areas like Rockledge Drive walking or driving slowly with their car's caution lights flashing while they simultaneously take pictures and look at an architectural field guide. (You know who you are). Identifying American Architecture: A Pictorial Guide to Styles and Terms, 1600-1945 by John JG. Blumenson is an excellent visual guide as well as the Arch.Styles app for smartphones by the developer "Know-it-all."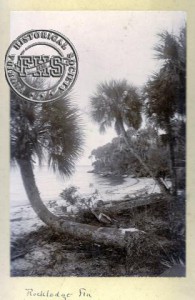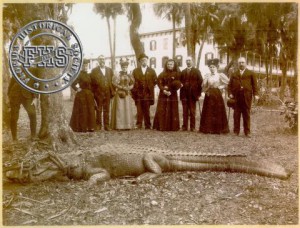 Images provided courtesy of the Florida Historical Society
Rockledge, FL was founded on August 7, 1887, making it the oldest incorporated municipality in Brevard County (1). The citrus trade played a major role in the economic beginnings of Rockledge as well as the lodging industry providing accommodation for tourists visiting Brevard County for its well-known wildlife, hunting and fishing industry or those using the intercostal waterway Indian River to travel further south (2).
The fascinating aspect of identifying American architectural styles is that while sometimes the designation is obvious, most often the style is a combination of elements that leave the structure open to interpretation. As I walk and drive cautiously through historic avenues and districts, I view the structures as archeological artifacts with their own story to tell. The predominant style of the building and materials used often serve as a timeline that describes the building's various inhabitants and the evolution of the culture and society that has existed in and around the structure. Below are some images from one of my most recent meanderings down historic Rockledge Drive with my own interpretation of the structures' predominant architectural styles.
Identifying American Architectural Styles: The Florida Vernacular Style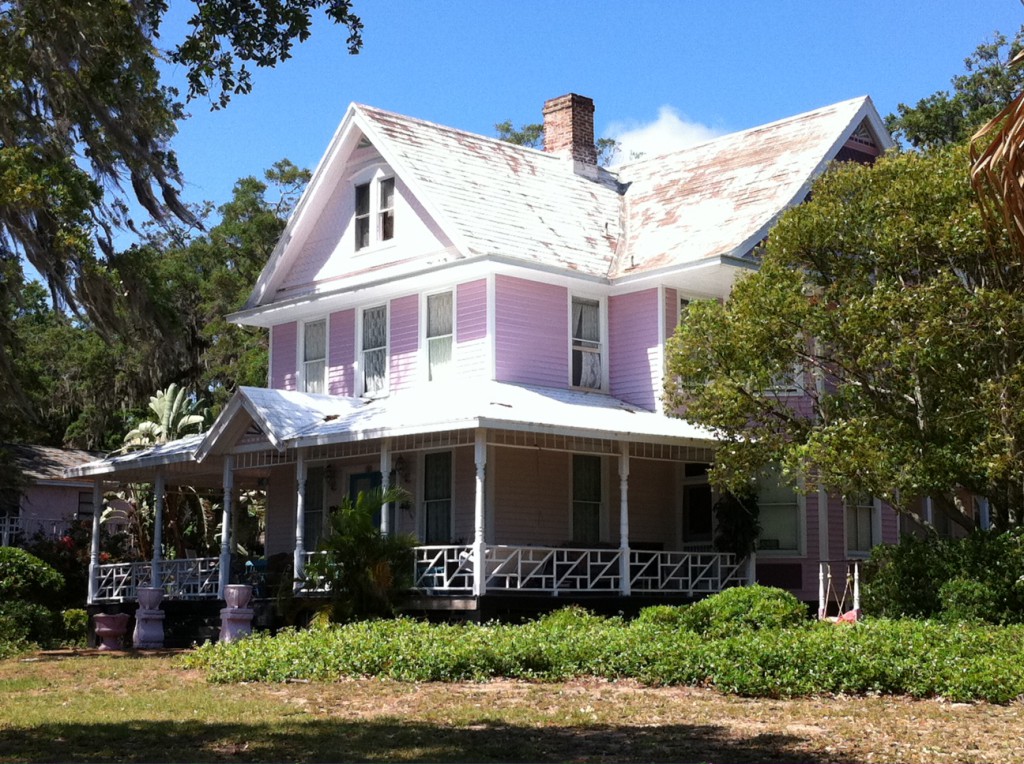 Image by Lesa Lorusso
Broadly defined, vernacular architecture is an area of architectural theory that studies the structures made by empirical builders without the intervention of professional architects (5). The Florida Vernacular style grows out of a central and south Florida building tradition that uses pastel colors, porches and multi-pitched roof lines. These elements were originally developed in response to Florida's climate and are now the visual elements that define the well known Floridian style seen in many coastal towns within the state (4). This pink wood-frame residence on Rockledge Drive embodies much of the characteristics of the Florida Vernacular style. With its pastel pink body color and delicate white gingerbread trim, the home stands out immediately to the viewer. The steeply pitched metal-clad gable roof rises above a large wrap-around porch further contributing to the beautiful Florida Vernacular Style of this elegant southern residence. The heat of long summer days can be endured beneath the cool of the porch while overlooking the breezy Indian River lagoon.
Identifying American Architectural Styles: The Tudor Style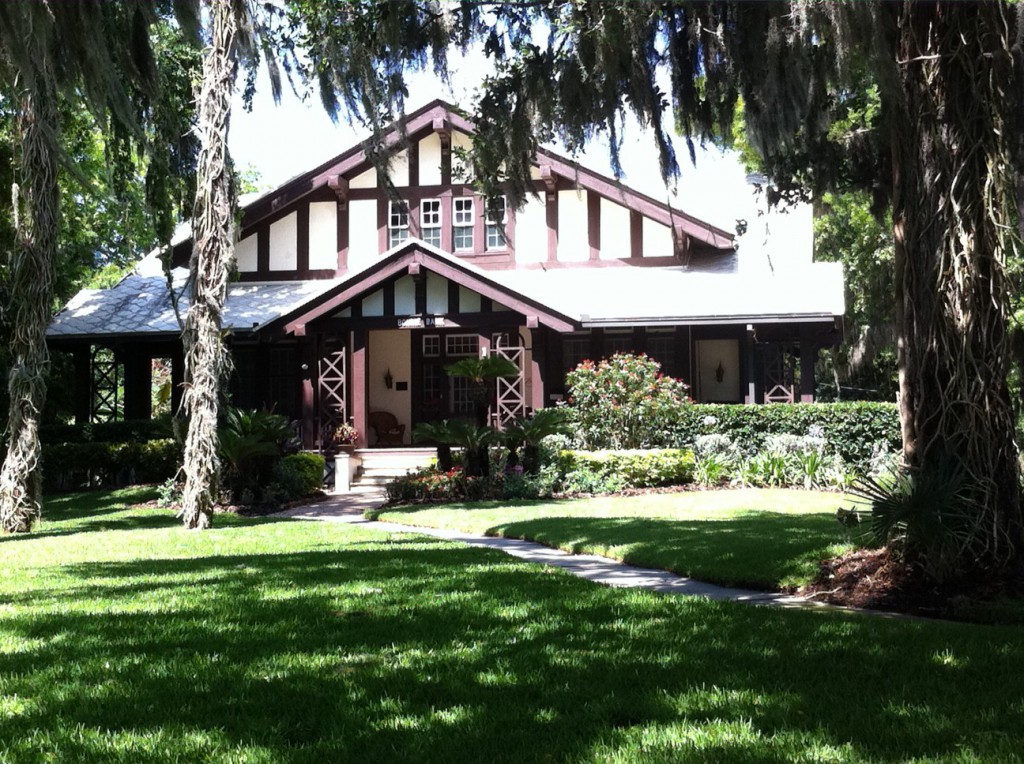 Image by Lesa Lorusso
The Tudor style harkens to sixteenth-century England with architectural details that are medieval in concept. Windows are often narrow with intricate muntin patterns. The most strikingly visual characteristic of the Tudor style is the use of half timbers and stucco infill seen in this Tudor adaptation with Floridian twist. Notice the wrap-around porch and metal roof which are clear influences of its state of origin. This style was popular in the US from the turn of the nineteenth century through the 1930's (6).
Identifying American Architectural Styles: The Spanish Mission Style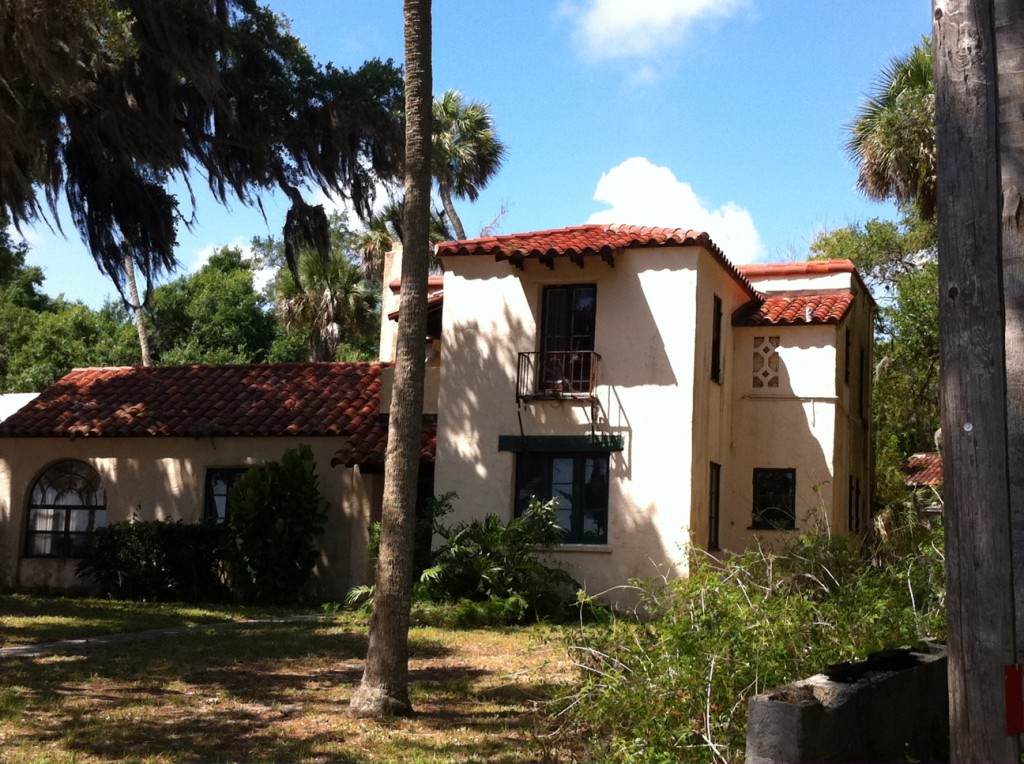 Image by Lesa Lorusso
The Spanish Mission style was prevalent in America from 1820-1920. Round arches are used in openings and windows within stucco walls. Roof eaves with exposed rafters often extend beyond the walls and are topped with a characteristically low pitched red tile roof. Vertical parapets are common as well as tracery and small balconies known as balconets made out of wrought iron as seen in this example.
Identifying American Architectural Styles: The Georgian Style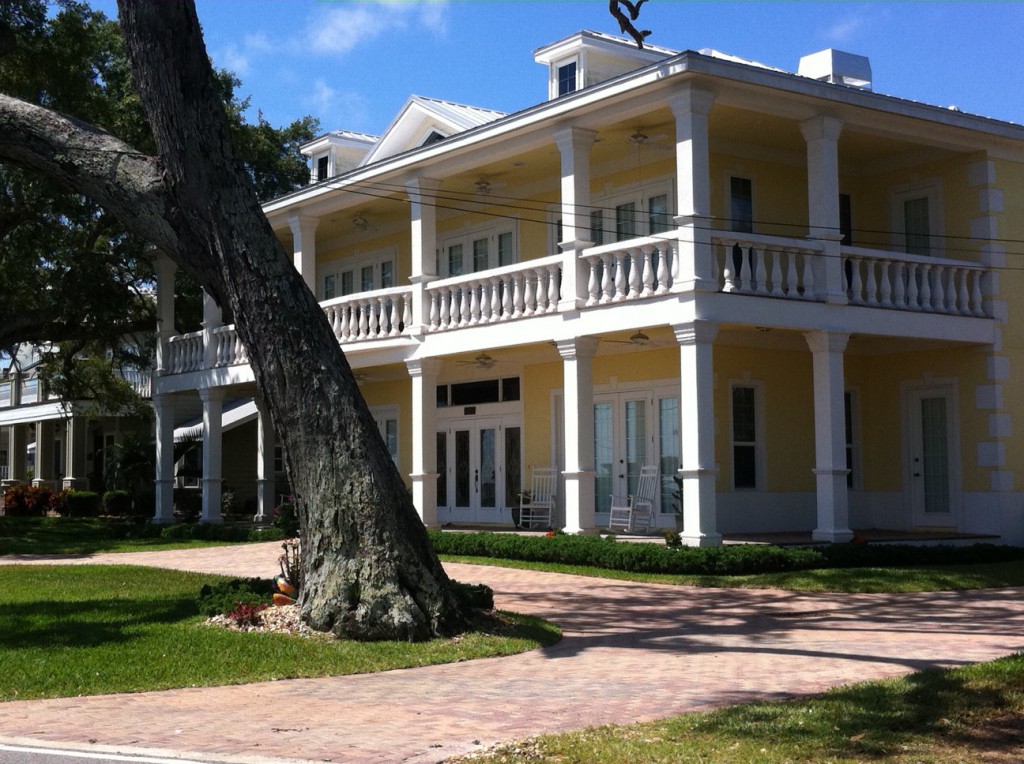 Image by Lesa Lorusso
This beautiful home once again combines styles in a Floridian interpretation of the Georgian style. An architectural style popular in America from 1700-1800, Georgian homes are characterized by a formal arrangement of parts. Symmetrical composition and classical detail is common with a facade often emphasized with a projected pavilion, colossal pilasters or columns and Palladian or Venetian windows. The yellow main color accented by white trim and a metal roof are what make this predominantly Georgian style building speak with a Floridian accent.
Identifying American Architectural Styles: The Queen Anne Style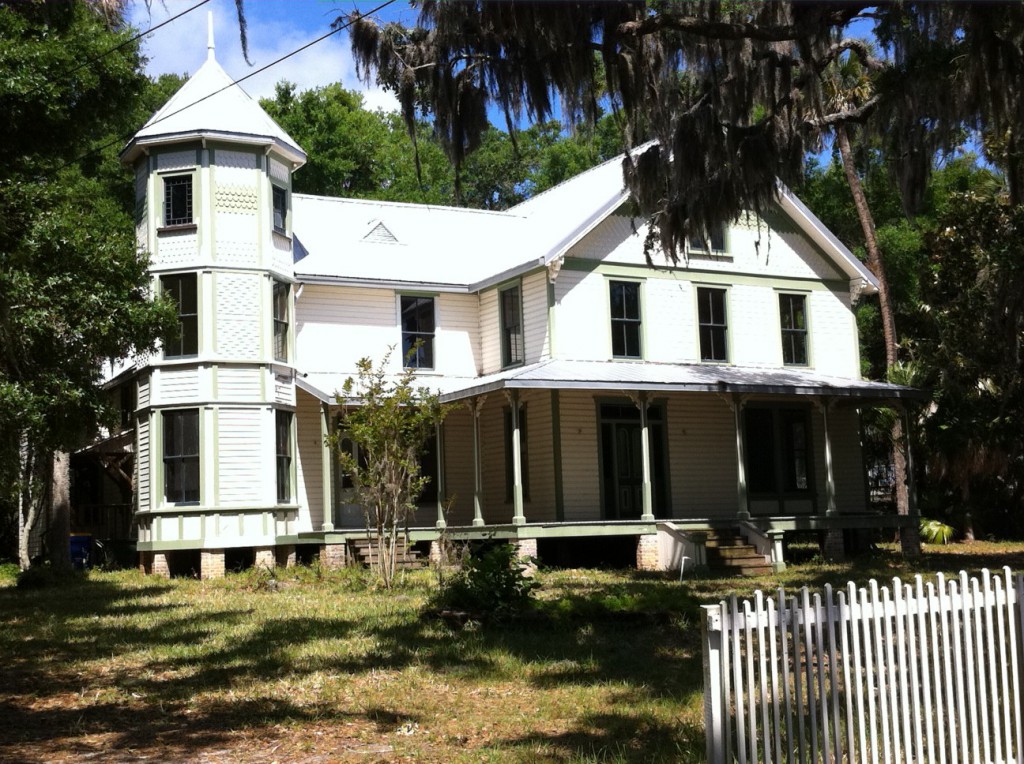 Image by Lesa Lorusso
The Queen Anne Style is often misnamed "Victorian." This style was popular in the US between 1880-1900 and is characterized by asymmetrical composition. Commonly used elements include towers, turrets, tall chimneys, projecting pavilions, porches, bays and encircling verandahs. Textured wall surfaces were commonly created with shingles and intricate wood trim as in this Floridian interpretation. Although most Queen Anne Style homes use an abundance of color, this example currently displays only two. Two signs in front of the property tell admirers that this building has been purchased by Brevard County with funds financed in part with a historic preservation grant provided by the Bureau of Historic Preservation, Division of Historical Resources, Florida Department of State, assisted by the Historic Preservation Advisory Council. I look forward to seeing this property lovingly restored and returned to its original beauty.
Identifying American Architectural Styles: The Colonial/ Gothic Revival Style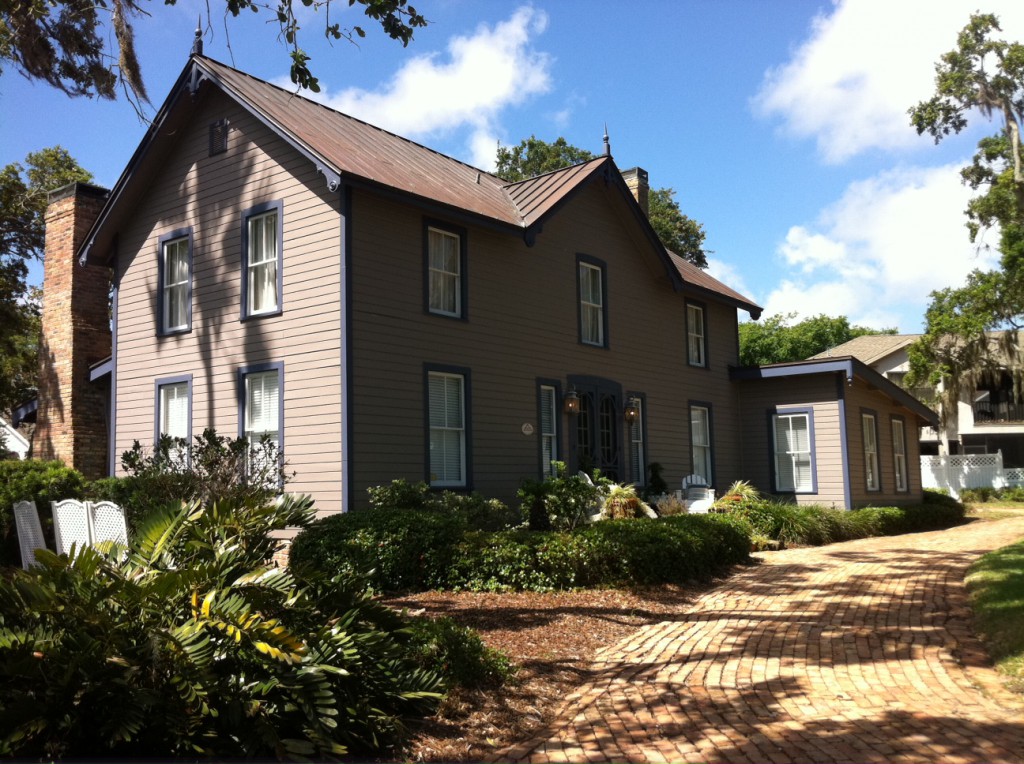 Image by Lesa Lorusso
This historical home seems to have its feet firmly planted in several architectural styles. At first glance the home appears to be similar to a New England Colonial style structure with a box-like appearance and sparse use of windows. The main part of the home appears to originally have been two rooms deep which, along with the horizontal wood siding looks like the well known "salt box" shape often seen in New England. After further study, however, several elements of the Gothic Revival style are evident. These elements include wooden pinnacles rising from the apex of the roof and very subtle gingerbread vergeboard detailing underneath the roof line. The metal roof is distinctly Floridian and the paint choice blends vibrant purple trim with a muted main color. In keeping with many of the historical homes in the south, this home originally would have had a separate kitchen seen by the brick chimney at the rear of the building. This was done to safeguard the home from accidental fires from the kitchen and to avoid adding unwanted heat during the stifling summer months.
http://www.cityofrockledge.org/Pages/RockledgeFL_WebDocs/About
Field, A. Clyde, Harrell, George Leland, Parrish, Ada Edmiston. Images of America Central Brevard County Florida. Arcadia Publishing. Great Britain, 2004.
Blumenson, John JG. Identifying American Architecture A Pictorial Guide to Styles and Terms, 1600-1945 Revised Edition. WW Norton & Co Publishing. NY, NY. 1981.
The Florida Vernacular Style Guide (www.palmbayflorida.org/…/florida_vernacular_style_guide.pdf)
http://www.vernaculararchitecture.com/
Ligibel, Ted, Tyler, Ilene, Tyler, Norman. Historic Preservation: An Introduction to Its History, Principles, and Practice (Second Edition). W. W. Norton & Company; (February 4, 2009).