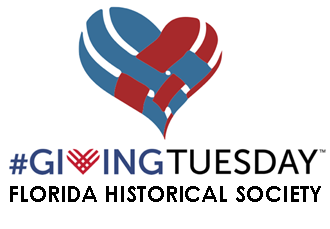 PLEASE USE THE DONATE LINKS TO THE RIGHT
To donate using your PayPal account or Credit Card.
Checks can be sent to:
Florida Historical Society
435 Brevard Ave.
Cocoa, FL 32922
To donate by phone: 321.690.1971 x 205

The Florida Historical Society is a 501(c)3 Not for Profit Organizationas defined by the Internal Revenue Service.
All donations are deductible to the amount allowed by law. **Always consult your tax professional.
A class of fourth graders at our Brevard Museum of History and Natural Science stares up in wonder at the towering skeleton of a Giant Ground Sloth.
A teenage girl at the Rossetter House Museum is inspired by the story of Carrie Rossetter, who became a successful businesswoman in 1921; just months after women received the right to vote.
An eager graduate student is thrilled to find a one-of-a-kind primary source document in the archive at our Library of Florida History.
A group of seniors gather at the FHS Headquarters to discuss the latest FHS Press book over coffee and donuts.
Hundreds of scholars, students, and history enthusiasts gather every year in a different Florida town for the FHS Annual Meeting & Symposium to experience presentations on Florida history topics, tours of historic sites, an awards luncheon, a banquet, a picnic, and much more.
As many as 83,000 people react to our engaging, informative, and interactive daily Facebook posts such as "Today in Florida History."
More than 2.6 million public radio listeners per year enjoy our educational and entertaining program Florida Frontiers: The Weekly Radio Magazine of the Florida Historical Society.
All of these moments and many more are made possible by YOUR Florida Historical Society.
The Florida Historical Society is made possible by people just like YOU!
We are an independent 501(c)(3) not-for-profit institution that depends upon individual Memberships, grant funding, and generous sponsorships of particular projects and programs to survive and thrive.
Please become a Member today! You will receive our outstanding journal, the Florida Historical Quarterly, and our newsletter, the Society Report. Most importantly, you will be supporting our educational outreach efforts throughout the state.
There are also always many sponsorship opportunities available for individuals, businesses, and foundations. Please contact our Development Team for more information at 321-690-1971 ext. 205, or at membership@myfloridahistory.org.
THANK YOU!!