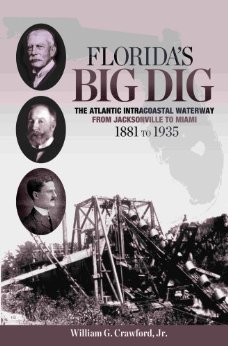 This book is the story of people of vision and courage, of a small group of prominent Saint Augustine investors who conceived of the Florida waterway and began the first dredging work; of an obscure group of New England capitalists who provided significant financing and obtained a million acres of undeveloped Florida public land in pursuing what was, at best, a speculative enterprise; of innumerable citizen groups like the Florida east coast chamber associations and the larger Atlantic Deeper Waterways Association that demanded at the turn of the last century what they believed was the peoples right-a public waterway, free of the burden of tolls; and finally, of the US Army Corps of Engineers, who conducted all of the Florida waterway's early surveys and assumed the project's control in 1929 to convert what was once a private toll way into Florida's modern-day, toll-free Atlantic Intracoastal Waterway.

A TEACHER'S GUIDE TO FLORIDA'S BIG DIG
by William G. Crawford, Jr.
Synopsis: The story of Florida's Atlantic Intracoastal Waterway from 1881 to 1935: How a privately built toll way became a toll-free public waterway of the federal government.
Click on image or file link near bottom of page to download PDF of teachers guide. The Teacher's Guide is free to use.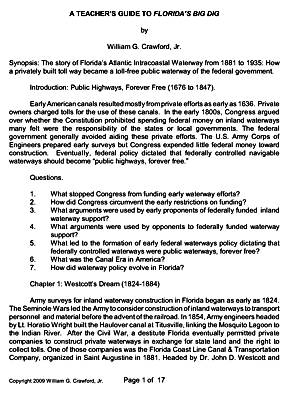 The book in both hardback and paperback is availble from the book store of the Florida Historical Society.