Before everyone had smart phones to look up and store phone numbers everyone used printed phone books. Before there were phones and phone books, everyone used City Directories to seek out business and an individual's address.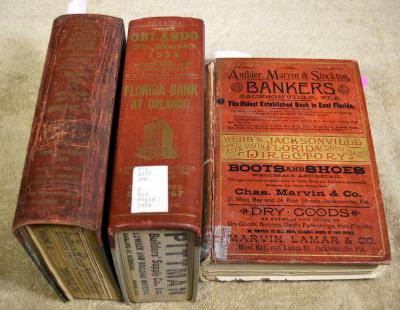 Directories like these three from the Library of Florida History's collection, which numbers over 100, offer a fine grained snapshot of the state's growth from 1886 (on the right) through the 1930's. They also offer an overview of settlement trends; Orlando is a sub-section of the 1886 book, which actually covers "the whole state". By 1938 the Orange County book (center) is at least as thick as the 1886 book.
Published every year or two, genealogists use City Directories to 'fill in' details on individuals between the decennial federal and occasional state census.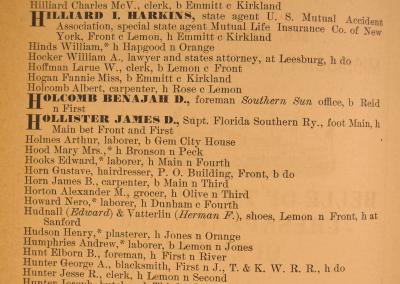 For example, this page from the 1886 Webb's Jacksonville Directory shows a Hollister, James D., his job, Supt. Florida Southern Ry., his office, "foot Main" and h(ome) Main b(etween) Front and First. Many directories include spouses names, and you can trace a family's development over the years when children grow up and start working while living at the same address, and then as they establish their own homes and families. Knowing a child's job can often help pick their family out in a census and help genealogists prove relationships. For genealogists directories are considered 'primary documents', reliable data provided by an individual and recorded at the time.
Directories are valuable for historians, too.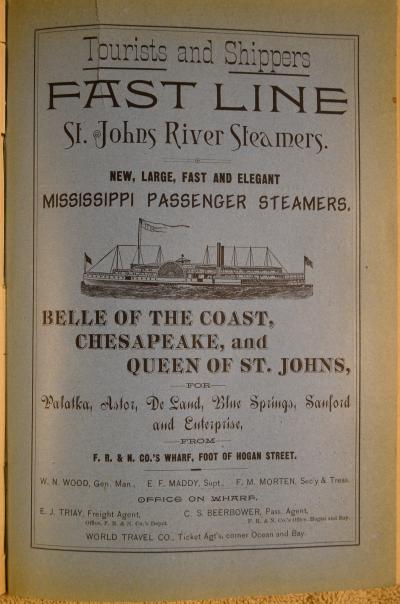 For a historian researching shipping in Jacksonville this ad may be the only reference to a particular shipping line, but beyond describing the equipment and services, it includes the names of corporate officers and the locations of their facilities.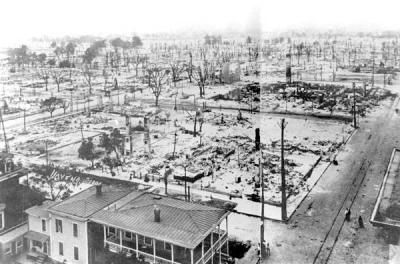 Courtesy Florida Memory
Or researching the "Great Jacksonville Fire of 1901" a historian finds news paper articles saying the fire started at "Palmetto Fibre". Where is that, exactly?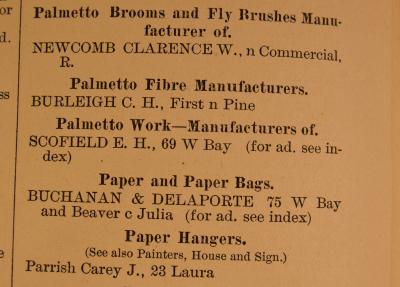 On First north of Pine perhaps? And C. H. Burleigh might have had some explaining to do. Does that name show up in later court records or newspaper accounts? What businesses were destroyed by the fire? The directory lists individuals and businesses by street as well as alphabetically. All are useful leads for the researcher.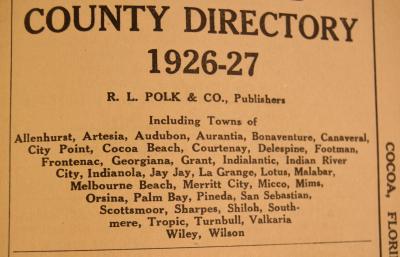 Not just people vanish between censuses. Florida has plenty of small towns and real estate developments that didn't last. This list, from a Polk and Company 1926-7 Brevard County Directory, includes many communities that had their moment, and vanished in later decades.
City directories, too, had their moment.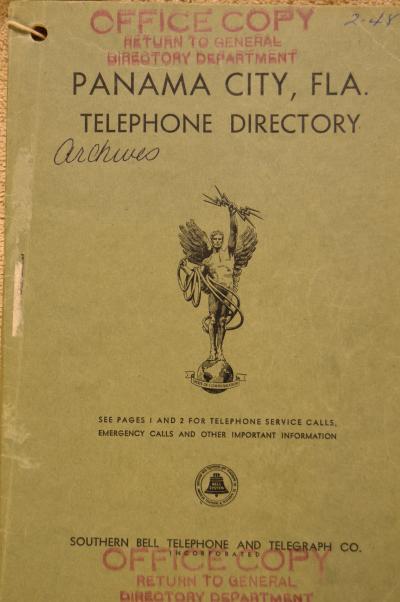 By the 1940's they were being replaced by the new technology's spawn, the phone book.
Many directories are available on line; big city libraries have begun digitizing projects, Ancestry.com and Family Search have some databases, too. But for smaller areas, like Panama City in the 1940's, that little book may be the only record of the businesses and people of that place and time.