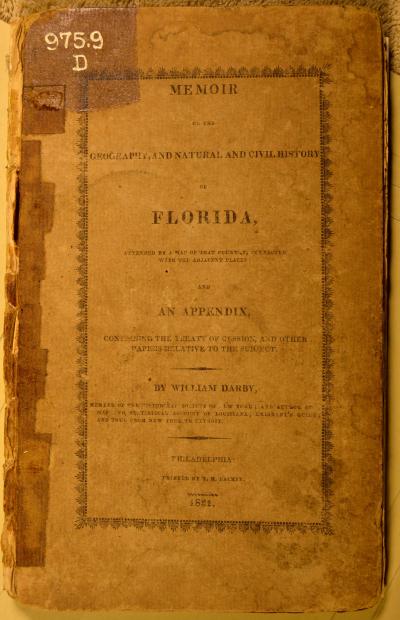 An 1821 first edition of Memoir of the Geography, and Natural and Civil History of Florida at the Florida Museum of History is by a geographer and cartographer who may be largely forgotten, but it contains a map of the state that can be consulted today, and a sentiment that has never been forgotten by settlers and developers.
William Darby (1775-1854) was born August 14, 1775 in a part of Lancaster County that is now Dauphin County, Pennsylvania, near the state capitol of Harrisburg in the middle of the state. It was then, and while William was growing up, considered the frontier. Growing up there he developed early on a respect for frontiersmen, the idea of moving west to conquer the land, and of Manifest Destiny.
In 1799 he settled in Mississippi Territory as a cotton planter, but with a strong interest in the land. He began collecting material for a map of the Territory and of Louisiana. In 1804 he gave up the farm and became deputy surveyor in the United States General Land office in Louisiana. Going to new lands was a dangerous job, but it paid well and it kept him where he loved to be, on the frontier.
Darby became adept at cartography and produced a series of maps on the region that are easily found in archive collections there today. Not all his adventures were on the frontier; he worked with Andrew Jackson on the engineering aspects of the defense of New Orleans during the War of 1812. That service apparently also brought him to Florida for the first time as part of an attack on Pensacola.
It is the first known modern map of the city and bay. He apparently spent two or three years in Florida gathering data for his memoir.
The book and the map were published at just the right time, as Florida was ceded to the United States, completing the nation's Eastern seaboard. (The Florida Historical Society republished his work in 2005)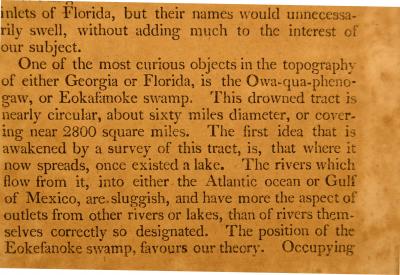 It was full of details about this exotic new land,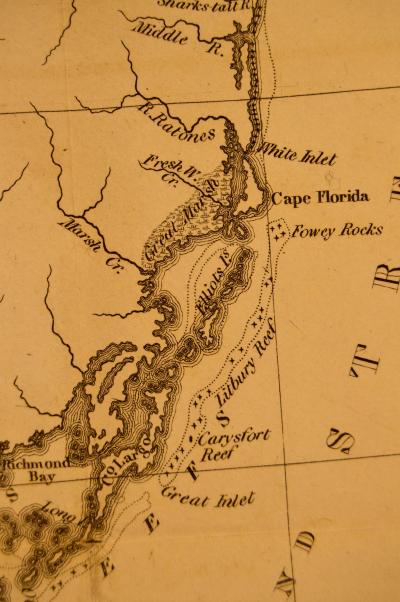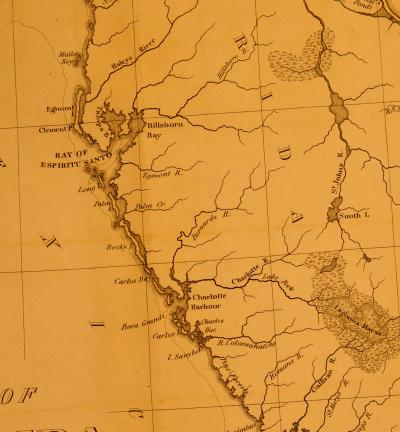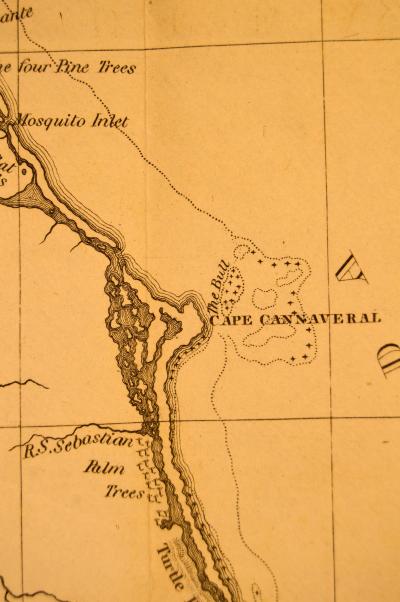 And detail of locations that resonate with us today.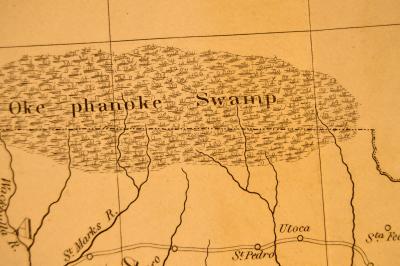 But if there is a theme running through it, it is that this is a wild, swampy land that needs to be drained and cleared to provide farmland and grazing pastures for American farmers. That sentiment influenced the thousands who came to Florida seeking their fortunes and it echoes today in the debate over Everglades's restoration and the preservations of forests.
Darby, meanwhile, apparently outgrew his desire to be in the frontier lands. He returned to Philadelphia and printed guidebooks for settlers in the western U.S., promoting manifest destiny, but for others. He also worked in the General Land Office in Washington, D.C., where he died in 1854.
Sadly, for a man who can show us so much about our country, there is no known likeness of William Darby.
In a final irony, the genealogical search service Find a Grave contains the note he is buried in Rock Creek Cemetery in D.C., but the grave of this skilled map maker is unmarked.