BY LESA.LORUSSO ON JUNE 29, 2012 IN COMMUNITY, FLORIDA HISTORICAL SOCIETY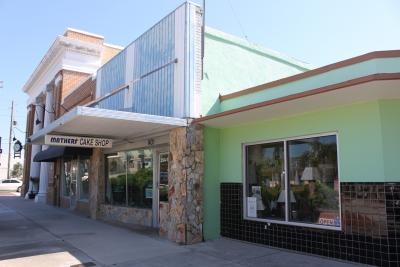 Photo by Lesa N. Lorusso, Images of EGAD. Mathers Cake Shop
In any town across America consumers will inevitably find several familiar warehouses built by national merchandisers whose primary goal is to provide shoppers the convenience of purchasing all he or she needs under one roof. Convenience has become the ruler of the day at the expense of community interaction, local craftsmanship and cultural heritage. Sounds like a country song, doesn't it? Preservationists hum the tune of Alan Jackson's "Little Man" as they are forced to walk through monotonous store aisles in the large emporiums as their communities neglect long standing commercial districts in favor of one-stop shopping. We lament the neglect of our local downtown treasures that remain scattered across the country in much need of repair.
Photos by Lesa N. Lorusso, Images of EGAD. Image Left: Orig Gleason Bros. Real Estate Building c.1910, Center and Right: Commercial buildings
America's downtown districts often consist of buildings that may not be historically significant on their own, other than being old. Because of their relative insignificance as separate structures, many of the older buildings in downtown districts have been defaced, unrecognizably modified or simply razed over time. These same buildings become historically significant as a collective whole, which makes it important to preserve an entire grouping of buildings, thus creating an official district. It is the collection of historic buildings, together with tree-lined sidewalks and visual charm that make a historic district a viable commercial destination. Preserved together, these old buildings can provide a powerful economic punch that is much needed in a down economy.
Photos by Lesa N. Lorusso, Images of EGAD. Left: Foosaner Art Museum, Top Right: View of Eau Gallie Florist, Lower Right: Eau Gallie Civic Center
The National Historic Trust for Historic Preservation's Main Street Program
In 1980 the National Trust for Historic Preservation established the Main Street Program in an effort to help preserve America's historic downtown districts. More complex than preserving a single home, the preservation of downtown districts involve marketing, economic development, and urban planning efforts. As a reaction to the destruction of many historic downtown commercial buildings damaged by neglect, or in the name of modern progress, The Main Street Program promotes the link between preservation and economic development to communities. The basic goal of this program is to promote economic development through historic preservation while relying on traditional commercial values like self-reliance, distinctive architecture, personal service and local empowerment (1).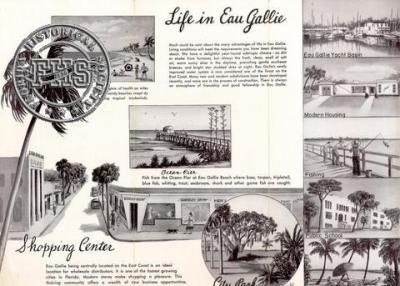 Image provided courtesy of the Florida Historical Society. Eau Gallie brochure circa 1950
In support of preservation is data collected by the Main Street Center in Washington DC, which states that the total public and private reinvestment in communities that have established a Main Street Program has been over $41 billion, with the average investment per community over $11 million. The program has led to the rehabilitation of over 186,000 buildings nationwide resulting in over 350,000 new jobs with $25 reinvested for every $1 spent on program administration (1). Preserving our local heritage by establishing Main Street Districts makes good economical sense.


Image provided courtesy of the Florida Historical Society. Street view of Eau Gallie
The Florida Main Street Program
Throughout the United States there is a growing interest in improving the appearance and economic stability of historic downtown business districts, and Florida is no exception. The Sunshine State is not immune to the national economic dilemma facing our nation, and local activists recognize that the preservation of downtown districts is crucial to the survival of many cities. Florida has long been a destination location for tourists and many communities throughout the state have seen firsthand the economic benefits of revitalizing downtown areas.
The National Historic Preservation Act of 1966 mandates that every State Historic Preservation Office provide technical assistance to local governments, organizations and individuals. The Main Street Program is one of the most important methods by which this agency meets this requirement. This mandate is also reflected in Chapter 267 of the Florida Statutes. The Florida Historical Resources Act specifically mentions the Main Street Program as a method for the Division of Historical Resources to provide technical assistance (2).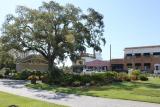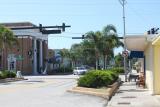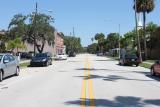 Photos by Lesa N. Lorusso. Image Left: Band shell, Center and Right: Views of Highland Avenue
Eau Gallie Arts District
The Eau Gallie Arts District (known affectionately by locals as EGAD!) is the official arts district of Melbourne, Florida and is a Florida Main Street Community. The Eau Gallie Arts District gets its name from the city that was once located in the area. Settlers began coming to this area in 1859 when the pioneering Houston family established a farm harvesting sugar cane, rice and vegetables (4). Until the 1960's there were actually two distinct cities situated on the western end of the two causeways crossing the Indian River Lagoon. The southern city was Melbourne, and the northern city was Eau Gallie. Eau Gallie is French for "rocky water." In 1969, the two cities merged, taking Melbourne as the name for the unified municipality. However, the original downtown area of Eau Gallie has continued to be referred to by the old city name (3).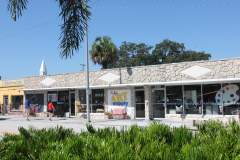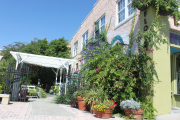 Photos by Lesa N. Lorusso. Left: Concepts on Highland Restaurant, Top: Ralph's Art Supply, Lower Right: Eau Gallie Florist, Lower Right: Coca-Cola Cooler
The district includes the Foosaner Art Museum and Museum School (now owned by Florida Institute of Technology), administrative offices of the Brevard Symphony Orchestra, HIstoric Rossetter House Museum and Gardens, Eau Gallie Public Library, Eau Gallie Civic Center, two public parks, a band shell and newly rebuilt fishing pier. EGAD is a thriving Central Florida community of unique merchants and local artisans containing art studios, galleries, eclectic furniture stores, a phenomenal cake shop (who made my delicious wedding cake), an art supply store (always willing to accommodate the needs of local design students), a beautiful Queen Anne style bed and breakfast as well as shops boutiques, churches, restaurants and professional offices and services. I was delighted as friendly local residents stopped to talk with me as I took pictures. A businessman inquired about the blog, two sweet ladies gave me residential historical information and one kind resident tried to sell me his antique Coca-Cola cooler. (see photo if you're interested)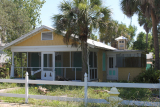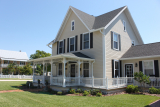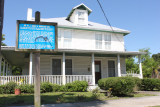 Photos by Lesa N. Lorusso, Residences on Highland Ave in Eau Gallie
EGAD is a beautiful blend of historical Florida vernacular homes, mid-century commercial buildings and modern amenities. The City of Melbourne has also re-zoned a residential area within EGAD known as the "Art Overlay Zone" to allow artists to establish studios within their homes, thus providing a special enclave for working artists. This is especially dear to my heart because as property values rise (which is inherently a good thing, economically speaking) a common unintended outcome of revitalized downtown districts is the ousting of the local artisans that give these areas such depth and contribute to the unique visual character. This thriving community is a great example of the Florida Main Street Program done right.
For more information on the Florida Main Street Program click here
For more information on the Eau Gallie Arts District click here
Ligibel, Ted, Tyler, Ilene, Tyler, Norman. Historic Preservation: An Introduction to Its History, Principles, and Practice (Second Edition). W. W. Norton & Company; (February 4, 2009).