BY LESA.LORUSSO ON MARCH 28, 2013 IN FLORIDA HISTORICAL SOCIETY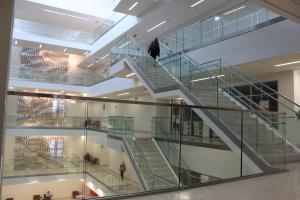 The William Johnston Building at the Florida State University, Photo by Lesa N. Lorusso
"Active Design" is a term used to describe the trend of interior designers and architects taking an active role in combating obesity. By using the design of interiors, streets and neighborhoods to increase opportunities for physical activity, design professionals can directly influence the health of their clients. In a recent article in the American Society for Interior Designers' publication ASID Icon, Rebecca A. Clay writes about the dangers of sedentary environments and the important role that many designers are now playing to help find a solution to America's "growing" problem. Clay states "the real goal of active design is not to make exercise more convenient for those who already do it but to increase everyone's activity level. Putting stairways front and center is one key approach, by making stairways more visually and aesthetically appealing." In fact, the Center for Disease Control and Prevention estimates that almost 38% of American adults and 17% of children are obese. A major factor in our nation's obesity epidemic is known as the "sitting disease," which contributes to various health consequences associated with sitting too long and too often. The animators of Disney's "Wall-E" didn't provide such a far-fetched vision of Americans, as we'd like to think. A 2012 study published in BMJ Open stated that sedentary behavior is on the same level of smoking as a risk factor that can eliminate as much as two years off of average life expectancy. As designers we can and should be taking these statistics seriously.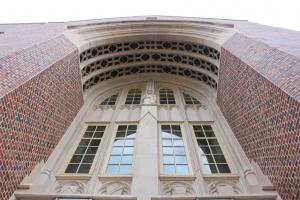 Images at left: Exterior of William Johnston Building at the Florida State University, Gold LEED plaque, Interior view of Johnston Building Atrium, Photos by Lesa N. Lorusso
Our concepts should be designed to encourage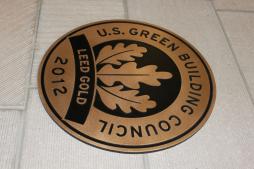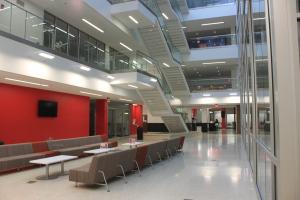 not only visual but active physical movement. So, how is this done? Clays article provides insight on several options, many easily achievable. One minor change is to include signage that says "burn calories, not electricity" near elevators which has been shown to a 50% increase in people taking the stairs. Also, planning for facilities that support exercise like showers and bike storage areas. Furniture can play an important role as well. Shoe designer Martin Keen has designed the new Locus workstation that allows users to work while poised halfway between standing and sitting, which is a posture that encourages the body to remain active. One of the most architecturally impressive ways to encourage activity within a building involves the staircase. As we often find in historic preservation, the past is most definitely prologue with regards to stairways. Many historic structures boast elaborate exterior entrance stairs and or give multi level stairways top billing once within a space. Traveling through a building was once treated as a significant part of the overall experience and not merely a means of egress. Designers should take notes from the stately brick and wrought iron matrons still standing in many cities across the US. In keeping with the initiatives of Active Design, stairs and egress ways should no longer be elusive and dark with low light and dull materials, and should instead be converted back into the awe inspiring sculptural centerpieces they once were. As we design interiors, we should seek to provide a visually enticing alternative to the elevator and escalator. Our culture today is fed technology intravenously through our smartphones and is accosted by a continual digital barrage of imagery. We should acknowledge that our clients are driven, now more than ever, by intense visual stimulation and persuade users into physical activity by heeding the advice from our historical examples and bring stairways front and center once again.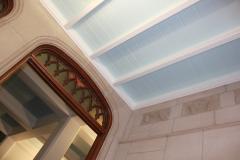 The William Johnston Building at the Florida State University campus is an excellent example of Active Design. Upon walking into the early twentieth century brick building and through a dimly lit foyer, visitors are welcomed by a surprisingly vivacious multistory atrium accentuated by metal and glass and sculptural staircases. The building houses the College of Visual Arts, Theater and Dance, the College of Human Sciences, College of Communication and Information and the Division of Undergraduate Studies. It was recently renovated by architects Gould Evans Associates and H2 Engineering, who worked together to meet the standards of the Architecture 2030 Challenge and sought to build a "carbon neutral" structure. The east facing original section of the building was built in 1913 and the west facing, newly renovated section, originally opened in 1939. The entire Johnston Building was known for many years as the Dining Hall because it housed the bakery, creamery, cannery and dining halls. In the 1980's the building was named after William H. Johnston, an hotelier from Jacksonville, Florida. During the most recent renovation of the 1939 section of the building, many of the historic interior finishes were preserved. Salt glazed tile wainscoting in the foyer of the first floor lobby, wood ceiling beams and hand painted cork ceiling tiles. The building received a Gold LEED rating, Leadership in Energy and Environmental Design. "In the 1930s, sustainability was about self-sufficiency," said lead architect Beverly Frank of Gould Evans Associates. "The campus creamery and cannery were great examples of that. Today, a major goal of creating sustainable building environments has to do with energy efficiency and a 'building science' approach to design and construction. A great deal of the remodeling within the existing building involved elements that are not seen or immediately evident, such as insulating the entire building with closed-cell spray foam and installing energy-efficient windows and mechanical systems." Florida State University President Eric J. Barron rededicated the newly renovated William Johnston Building to the "20th century students who first brought these halls to life" and the "21st century students who will open its doors to the future."